Only if you don't want to come for another session!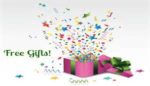 Many therapists, particularly when newly qualified, will offer a free first session so you can see how you can get along. My way is to insist on payment for the first session, usually in advance, with a guarantee of a refund of that payment if either of us doesn't want to continue for any reason at all after having attended for the first session.
Yes, if you come to the first session, you are welcome to leave, having had a full session, and with a refund, if you decide for any reason that you do not want to continue.
So, what's the difference? In practice very, very few clients fail to show up for the first session if they have paid in advance. This is very much to their own benefit, as if they just vanish without attending or paying, they are not going to come back and give therapy a chance to make a difference in their lives. And it has been proven over and over that therapy can make a huge difference in their lives. So I don't want to discourage them from having that opportunity to better themselves.

It's true that most clients who come for the first session will continue for a course of sessions, be that six sessions – my suggested course – or longer. And the overwhelming majority of those clients will come to feel that the experience offers extraordinary value for money. But if they don't want to return I am delighted to offer a refund. In a way it could be argued that I'm paying these clients not to return!  Why? – because I only want to work with clients who really, really want to work with me.
Of course,on occasion, I believe that I am not the right therapist for a client. Obviously they get a refund, and suggestions as to other therapists who may be more suitable. Sometimes, I want the client to think hard about their motivation and expectation of therapy before coming for a course of sessions. In those cases I will insist on giving a refund immediately. If the client then decides they want to return for a course (and it has to be said that most do), they will pay me for the first session too.